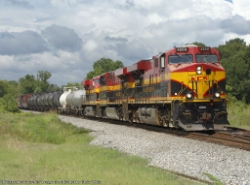 Welcome to the RRPictureArchives.NET contributor site of Chris White.



"KCS Console 6 - Shreveport over.."

"UNKC over..."

"DTC when your ready..."

"Ready to copy, over..."

"Authority number 5754, 5754, Meridian Subdivision at Greenfield, Line 1, KCS 2008 is granted directional authority from West, W-E-S-T Greenfield, to East, E-A-S-T Jackson. Line 6, curent authority 5751 is void. Two lines issued, 1 and 6 over..."



You may browse my collection of pictures via the menu located on the left hand side of the page. I hope you enjoy the collection and thanks for stopping by!
Note: This site is best viewed in Internet Explorer 6.0 or above.
Select one of the links from the menu on the left to begin browsing the collection.